7 Minute Read: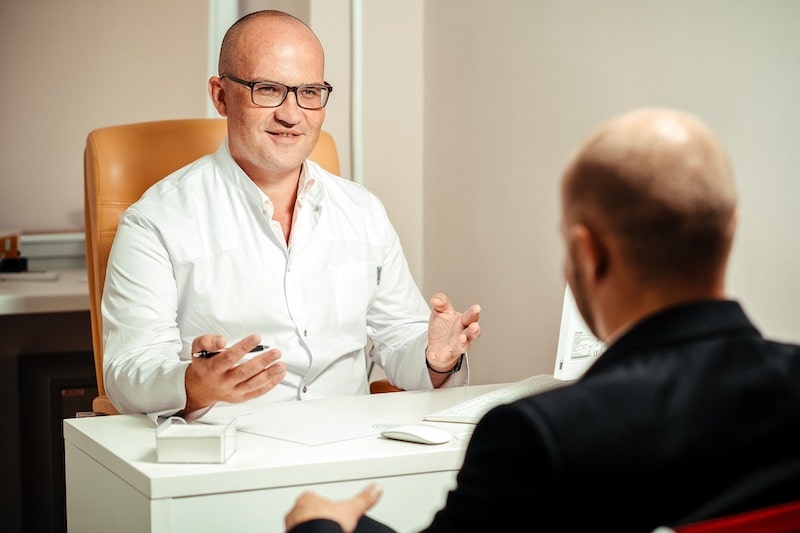 People who consider a surgical procedure often spend a lot of time analyzing the process. They think about the results, costs, previous experiences of others, and possible side effects. While all of it matters, of course, there are other essential aspects worth the attention. And one of the most important factors to consider is choosing a surgeon. While it may sound simple, at first, it goes far beyond just choosing someone with credentials. If you want to have an entirely positive experience, every piece of a puzzle has to fit in its place, from the first impression to conditions and clear communication between the client and the doctor. It will require a bit of effort, but following the right tips will help you make the right decision.
Relevant Tips for Choosing the Right Surgeon
A decision about your reconstructive or cosmetic procedure is a hard one. It can be a life-changing event that adds a lot of pressure, whether it's out of necessity or just changing the way you feel about yourself. That's why not everyone would be suitable enough to appease and completely understand all your needs. You will need an experienced and reliable plastic surgeon who easily connects with patients. Someone who deeply appreciates aesthetic harmony and knows what it requires.
To ease your search for such a surgeon, here is the list of some essential elements to keep in mind:
Start by looking for referrals

Consult with multiple surgeons

Research the clinic quality

Get information about the surgeon's experience

Consider the field of expertise

Check what previous patients have to say

See examples of the work

Evaluate the communication
Start By Listening to Referrals
No matter where you live, chances are that your primary care physician can point you in the right direction. At least, a doctor will know where to get relevant information about the subject. There are also friends and family members who might have a previous experience with such type of surgery so they can tell you about it. Finally, you can always explore the internet and check what others advise about where to look. And, of course, what to look for.
Don't rush the search – take enough time to gather as much information and referrals as you can. Should you reside in the US, the American Board of Plastic Surgery is an excellent place to start. Create the list of surgeons and start calling them to check when they will accept new patients. Once available, make sure to schedule the appointment for consultations.
Consult With Multiple Surgeons
It goes without saying that getting in touch with multiple surgeons is a necessity. While it may seem convenient that a particular surgical office is the right choice, never make a decision after the phone calls only. You have to physically go to the institution and have a live chat with potential doctors.
In general, this can ask for a tremendous effort, but considering the delicacy of the process, it's worth it. You will have a first-hand impression and a chance to speak and consult directly about your issues. Only then will you form the correct opinion about which surgeon will be the best option for you.
Research the Clinic Quality
One of the first impressions you will get is immediately after the arrival. The doctor's clinic/office/practice/hospital is where you will spend some time. For this reason, the place where they receive their patients has to be in the top condition and perfectly sanitized. For obvious reasons, the highly-rated clinics will always keep their premises in top condition. This is where they greet their patients, host and consult them, and finally, conduct the procedures. As for the latest example, make sure to discretely inspect the surroundings and equipment. If the clinic has moved from another place by chance, it will be evident if they have paid attention to all the critical aspects of relocating such a business. Packing medical equipment is a challenge enough, let alone the transfer of it to a new location. So, the office and equipment handled with care will be easy to notice. If you see anything out of place, either the clinic is just starting or is not appropriately managed.
Get Information About the Surgeon's Experience
No matter the job or the industry, the experience does matter, especially in medicine, and particularly in surgery, where years of practice can make all the difference. You want someone who knows exactly what to do for such a precise and delicate operation. After all, there is always a risk of complications, so you need a doctor who can react accordingly. Even without potential issues, the quality of work will still depend on previous experience.
Without hesitation, always ask about how many such procedures the doctor has performed before. If the doctor feels comfortable with your demands and knows how to treat similar conditions, you will be in good hands.
Consider the Field of Expertise
In medicine, and especially in plastic surgery, not all doctors are the same. There are different fields of expertise based on their skills, training, and past experiences. For example, if the doctor is a specialist for liposuction and you are looking for an endoscopic plastic surgery specialist, you might want to extend your search a bit further.
However, many quality surgeons specialize in a variety of procedures. It is not a surprise that you will come across the doctors who master dozens of fields. Again, if they have been years into the business, they had plenty of time to make all those accomplishments, especially if they are working at one of the famous and often busy clinics. So, credentials, certifications, and even a history of complaints should be good guidelines for searching for a proper surgeon.
Check What Previous Patients Have to Say
Again, other people's opinions on the matter can mean a lot. If you have a chance, look for people who have previous experience with a particular doctor. Check what they have to say about their own experiences. Today, considering the increased information flow, you can easily come by relevant information. The internet is, after all, a place where you can find reviews, testimonials, and other evidence of good or bad behavior. The same goes for surgeons as for any other business. People with positive experiences will not shy away from sharing their opinions, especially if they are delighted with the results. And in fields such as plastic surgery, the patient's satisfaction is of ultimate relevance.
It's Essential to See Examples of the Work Before Choosing a Surgeon
While consulting with a doctor, don't forget to ask to see the previous work. Those with a proven reputation always keep a record of conditions before and after the procedures. By looking at the examples, you will not only see the magnificence of the work, but you may also learn something you didn't know before. Also, during the exhibition, the doctor will have a chance to explain the procedure in much more detail, which leads us to the next tip.
Evaluating the Communication
No matter how good the surgeon is, it won't matter if you misunderstand each other. The doctor has to clearly understand and deeply emphasize with the patients, particularly if they are going to do a good job. On the other side, the patients have to feel comfortable talking about the subject. This is why communication is of the essence and one of the most critical ways to gather information while choosing a surgeon. Also, it's an excellent way to see how the doctor and the personnel treat their patients. If you are not exactly satisfied with how the conversation is going or how you are hosted, consider visiting another office.
Interested in Learning More?
Contact Dr. Robert Wald by calling (714) 312-3549 or filling out our online contact form.