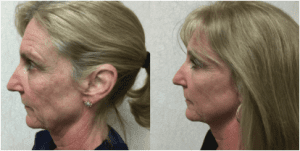 A new year is here! It is time to freshen up your look and become a brand new you. With so many non-surgical options in the world of cosmetic surgery, you don't even need to go near an operating table to look and feel more youthful. Dr. Robert Wald offers a variety of non-surgical procedures that have proven results with less downtime and pain. It's time to look great in 2017 and be the best version of yourself you can be!
Injectables and Fillers for a Smoother Facial Appearance
The stress of last year may have worn and tired your appearance, and facial injectable fillers are ideal options for smoothing out fine lines and wrinkles with minimal pain and recovery. Within one short office visit, you can quickly "touch up" aging indicators to create a younger, more rejuvenated facial appearance. According to the American Society of Plastic Surgeons, the increasing popularity of non-surgical facial rejuvenation continues to grow and provides endless customization for patients. You can undergo one or a combination of our injectable treatments.
Injectables and Fillers Offered:
JUVÉDERM®:

Composed of hyaluronic acid, a naturally occurring substance in the body, JUVÉDERM® can treat smile lines, wrinkles under the eyes, loss of fat in the cheeks, and thin lips.

Restylane®:

This hyaluronic acid formula helps fill nasolabial folds, creases around the mouth, and loss of volume in the cheeks.

RADIESSE®:

Made of calcium hydroxylapatite, this injectable effectively treats marionette lines, depressions on the nose, smile lines, loss of volume in the cheeks, and loss of definition along the jawline.

BOTOX® Cosmetic:

Made of a protein derived from botulinum toxin type A that blocks nerve impulses to temporarily paralyze facial muscles, BOTOX® Cosmetic can help to target frown lines, crow's feet, and wrinkles along the forehead.
Non-surgical Facelift With INFINI
™
Laser
Aging, sun exposure, environmental factors, and stress can all impact the overall appearance of the face. As time goes on, the tissues on the face tend to dry out and sag. INFINI™ Laser is a radiofrequency (RF) microneedling device that helps to remove wrinkles and reduce facial skin laxity. Patients can achieve results similar to those of a facelift without the surgical scars and pain.
Eliminate Fat From the Love Handles and Abdomen
Many of us have noticed how much the holiday season has caused us to pack on the pounds. We can diet and exercise to get rid of the unwanted weight, but sometimes even a healthy lifestyle provides little to no success. SculpSure® is one of the latest fat-reduction technologies designed to target stubborn areas such as the love handles and abdomen. Using custom-designed applicators, the SculpSure® device emits laser technology to eliminate fat by attacking the fat cells and melting them down.
Dr. Wald is an experienced plastic surgeon who can help you decide on the right treatment for you. Schedule your consultation today! Contact us by calling (714) 312-3549 or by filling out our online contact form.