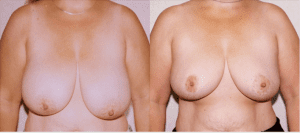 The breasts can help a woman feel like a woman. They are a symbol of her femininity. When a woman is unsatisfied with the appearance of her breasts, she may feel insecure about her entire physique. Many women undergo breast augmentation to make the breasts larger or to improve the overall shape of the breasts; however, some women find that having overly large breasts makes them feel awkward or even causes them pain. To correct breasts that are large and pendulous, a woman can undergo breast reduction to achieve breasts that fit better with the rest of her body.
Feel More Confident With Breast Reduction!
Most women undergo breast reduction not for aesthetic reasons but to correct medical problems associated with the size of the breasts. Many women who have undergone breast reduction surgery have gained an increase in self-esteem and feel more attractive.
Overly Large Breasts Can Cause:
Neck pain

Back pain

Skin irritations

Skeletal deformities

Breathing problems
Breast Reduction Can Help a Woman Have:
Better posture

Less pain

A positive self-image

Symmetrical breasts

A more flattering figure
Dr. Wald performs breast reduction by removing fat, glandular tissue, and skin from the breasts. Overall, patients can expect smaller breasts that are lighter on the chest with more flattering contours. He can also reduce the size of the nipples and areolas.
Breast reduction can produce dramatic and satisfying results. A woman can expect to achieve breasts that are better proportioned with the rest of the body and to have clothing fit better after undergoing breast reduction.
If you have large, pendulous breasts that cause you pain or discomfort, breast reduction may be the perfect procedure for you. Dr. Wald can discuss your options during your consultation. You can contact us by calling (714) 312-3549 or by filling out our online contact form.