Cosmetic Surgery and Safety Concerns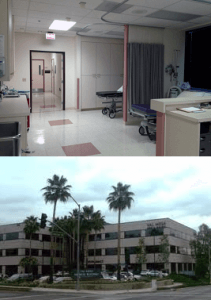 I recently had a facelift patient tell me how wonderful it was that she was able to have her surgery in Mesa Surgicenter (AAAASF/Medicare Ambulatory Surgery Center (ASC).  This is located adjacent to our office.  She found this facility to be extremely comfortable and personal.  "Being in this environment and not in a hospital, I felt like there was less chance of an infection.  The team at the surgicenter was extremely professional and the Board Certified anesthesiologist was outstanding.  It was comforting to know that these individuals specialize in this kind of surgery and are aware of all aspects of cosmetic surgery."
It is important for a patient to find out where their surgery will be performed.  Not all surgery centers are accredited.  A surgery center must undergo frequent evaluations by state inspectors similar to a hospital to become accredited.  A certified facility will also be able to perform general anesthesia.
In my opinion, it is important to have a board certified anesthesiologist performing the general anesthesia.  Safety is of utmost importance and  higher costs may be involved to achieve this standard.
Please contact our office with any questions or concerns, or to schedule a complimentary consultation, 714-738-4282.