Breast Reconstruction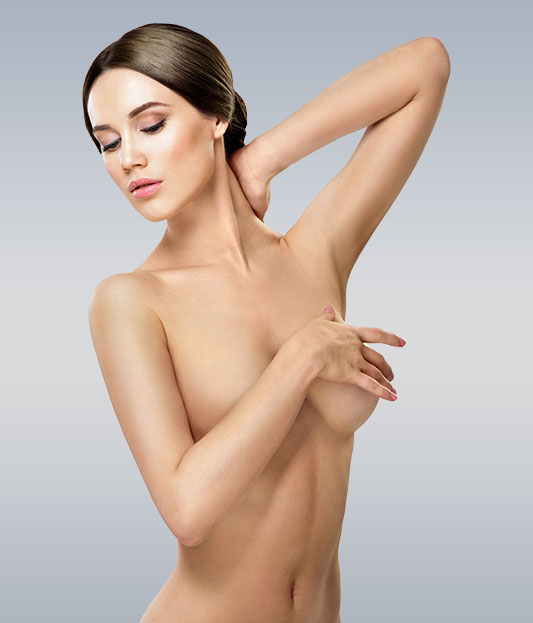 Breast reconstruction is performed in conjunction with or following a mastectomy, with the goal of restoring the appearance of breast tissue that has been removed. Several options are available to recreate the appearance of your altered bustline. This will all be discussed during your consultation.
Your Breast Reconstruction Options
Breast reconstruction surgery can help restore the comfort and confidence of women who have battled breast cancer.
Skin Expander With Implants
This reconstruction technique is considered the simplest and has the shortest recovery period. A tissue expander is first placed, which creates a breast pocket that is able to hold your implants. Over the next several weeks to months, the expander is slowly filled, stretching out the breast tissue. Once the proper pocket has been created, the expander is replaced with permanent implants.
Latissimus Dorsi Flap
This technique uses your own muscle and skin to create a new breast mound. Incisions are created along the bra line to hide any additional scarring. The donor tissue is taken from the patient's back, which may result in some weakness. Implants may be placed under the flap if the crafted breast mound doesn't provide you with the bust size you want.
Tram Flap
The tram flap is the most complex reconstruction technique; the donor tissue is kept and attached to its original blood supply. Abdominal muscle and skin are tunneled up the body to create the breast mound. A synthetic mesh is then placed over the abdominal area to help strengthen the donor area and prevent complications. In most cases, implants are not needed to achieve the desired breast size.
Nipple Reconstruction
Nipple reconstruction is the final touch to your procedure and is performed once your breast(s) have healed. Tissue is removed from discreet locations, such as the thigh or behind the ear, and shaped to create the nipple(s). These sources of skin are typically darker than others and provide a more natural-looking nipple contrast. Once healed, the nipple-areola complex may be tattooed to achieve a more realistic look.
Do You Have More Questions?
We are available to answer your questions and help you with any concerns you may have about restoring your breast appearance through reconstruction surgery. Schedule your consultation now to start your journey toward healing and comfort!
Schedule a consultation
The aesthetic institute
Robert Wald, MD
100 E. Valencia Mesa Drive, Suite 300
Fullerton, CA 92835
---
Phone: 714-312-3549
Fax: 714-738-1862
Free Consultation Limited Time Offer!