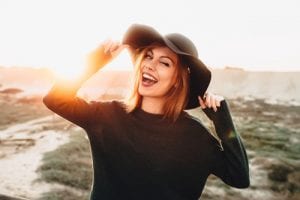 Have you noticed that your skin is looking dull and lifeless following the summer season? With the onset of winter, do you feel that your complexion is poor and uneven? Even with good skin care habits, you can still experience the negative effects of sun exposure. Reversing signs of sun damage will leave you with a brighter, smoother complexion.
Common Signs of Sun Damage
Wrinkles
Brown spots
Red spots
Dry skin
Treating Your Skin at Home
While we all have the best of intentions of protecting our skin during the summer, you may have failed to do so 100 percent of the time. You can begin to treat sun damaged skin at home. These are simple tips you can add to your at-home skincare routine.
Wear a light SPF every day: You may be thinking that because summer is over you can forget about wearing sunscreen. However, you can still get the negative effects of sun exposure even in winter and especially if you live in Southern California where winter can feel like summer sometimes.
Moisturize: The combination of the summer heat and winter chill can rob you of the hydrating moisture that your skin needs. It is important that you introduce a moisturizer into your skin care routine to restore that lost hydration.
Lasers to Treat Sun Damage
While at-home routines can prevent your skin from getting worse, they may not fully reverse the signs of your sun damage. Pigmentation issues and wrinkles start below the skin, and surface treatments aren't powerful enough to provide the correction you need. Laser skin resurfacing is the ideal post-summer skin procedure because it works deeper in the skin to reverse sun damage.
How Lasers Help Your Skin
Lasers introduce heat and energy into the tissues of the skin. This process damages pigmentation cells, causing them to be absorbed by the body. It also stimulates collagen production in the skin, which can reduce wrinkles and smooth your appearance. Laser treatments are quick, in-office procedures, that only have about three days of downtime.