What Can I Expect After a Tummy Tuck?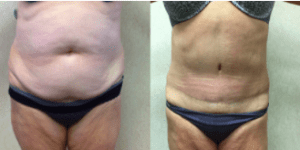 People choose tummy tuck surgery to restore the toned and lean contours of their abdomen following weight loss, pregnancy, or because they have age-related laxity. While a tummy tuck can transform the contours of your body, it does require a thorough surgery with a recovery period that will leave you out of commission for several days. However, most people feel that this recovery time is worth the dramatic results they achieve. Planning ahead for your tummy tuck can make the recovery process less intimidating.
Controlling Discomfort
While we all wish there were never any discomfort following surgery, some pain and discomfort are impossible to avoid. The tightening of abdominal muscles can be particularly troublesome for certain people. Luckily, pain medications taken on a strict schedule will alleviate the soreness. Most patients say the first 48 to 72 hours are the worst; after that time, milder pain medications can be used to control discomfort.
Changing Your Bandages
While it may sound intimidating, it is simple to change your bandages and clean your incisions. Your surgeon will provide you with detailed instructions for the cleaning process, including telling you what materials can and can't be used on the incision area. Proper care of the area helps prevent infection and decreases the chance of you developing unsightly scars.
Taking Time Off
You will spend the first 48 hours of your recovery with minimal exertion. You'll likely feel tired, though you should get up and slowly walk around. Even after the first 48 hours, you need to take it easy. Your body is trying to heal itself, and incisions are still fresh. Placing stress on your body too quickly can slow the recovery process and put you at risk for tearing an incision. Depending on the physical nature of your work, most people can return to work within two weeks.
Wearing a Compression Garment
Throughout the recovery process, you will wear a compression garment, which reduces the amount of post-operative swelling and promotes further tissue contraction. This process helps you achieve your desired shape. While some people may find the compression garment uncomfortable at times, it is a key part of creating the look you want.